Grooming to breed standards OR your specific requirements
Wash & Brush-Up
Full overall check to assess coat and skin condition (e.g. fleas, cuts etc.).
Bath - washes suited to the findings above.
Special attention to eyes & ears plus, if necessary, nails trimmed.
Hand drying using a quiet machine for minimum disturbance to your dog.
Groom Plus
Full wash & brush-up as above
Trim & style coat to the breed standard or to your specific requirements.
Puppy introduction
Getting your pup used to the grooming process at a young age will help them just take it in their stride in future. I ensure this first experience is both fun and enjoyable, allowing puppy to have a good sniff around to feel at ease.
If needed, futher visits whilst a puppy can include a simple bath and dry in a fun environment so visits to Groomology are nothing to fear.
All breeds and ages accepted.
Prices start from £30.
Please bring a signed copy of our Groomology - Terms & Conditions and Consent form to your first appointment.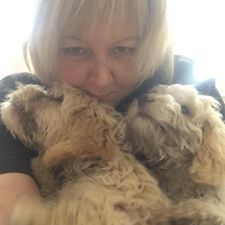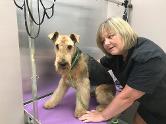 Customer feedback
"Hi Yvonne thanks so much for Todds grooming on Monday I'm really pleased with how he looks."